---
---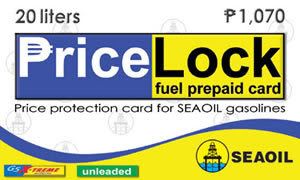 All over the world are experiencing the sudden price burst of oil products. In the Philippines, the price of gasoline is increasing almost everyday. Some people is predicting that it will reach the Php 60 plus price.
To help consumers,
SEAOIL Philippines
is offering a price lock prepaid card at P1,070 for 20 liters, or P53.30 per liter.
Company officials explained that the Price Lock Prepaid Fuel Card can be used to buy 20 liters of gasoline (G5 X-treme and Unleaded) from any SEAOIL participating stations. The selling period is from June 10-16, 2008. Each card costs P1,070 and is valid for 10 weeks (June 10 up to August 16, 2008).

Since the price has been fixed, cardholders will have an easier time budgeting their fuel expenses as they will be insulated from further spikes in gasoline costs during the promo period.

In the event of a price rollback also during the period, i.e. the price goes down to less than P53.50 a liter, SEAOIL will refund unused (unscratched) fuel prepaid cards.