---
---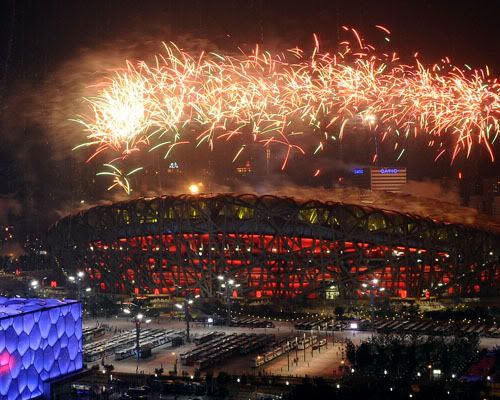 The
29th Beijing Olympic Games
has ended. We witness the athletes triumph and the drama. Even though there are controversies, the host country displayed to the world that they are indeed a powerhouse in sports. China finish the Olympics with 51 gold medals, in second place is the United States with 36 gold medals and Team Russia took home 23 gold medals. The last of the 302 gold medals was won by France in the men's handball.

Michael Phelps of the United States made a mark in history by winning EIGHT GOLD MEDALS and surpassing Mark Spitz record performance in the 1972 Munich Games and now he is being dubbed as the Best Olympian in History.

Usain Bolt of Jamaica was the shining star of 10 days of Athletics competition at the Beijing 2008 Olympic Games that produced five world records and 16 Olympic records.

There was redemption for the US Men's basketball Dream Team. The NBA superstars beats Spain 118-107 to win the gold that eluded them at the 2004 Athens Games.

We all witness some of the drama and controversy in different sports : In Chinese gymnastics team, the United States question the validity of the age of some of the Chinese gymnast.

After being disqualified, Cuban taekwondo athlete Angel Matos has attacked the referee after losing his bronze-medal match.



Beijing's polluted air had been one of the biggest concerns and it affected the health of Ethiopian world record holder Haile Gebreselassie to pull out of the men's marathon.

The hosts handed over the Olympic flag to 2012 hosts Great Britain and with China's successful hosting and presentation raises and set the bar in another level.