---
---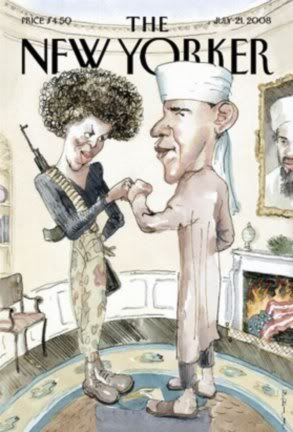 Another controversial issue that creates different opinions to many people. Many are buzzing around about the latest edition of "
The New Yorker
" magazine featuring
Michelle
and
Barack Obama
drawn and projected as terrorists.
Barack is wearing a turban and traditional Muslim dress. Michelle in afro is wearing a military camouflage and boots with a AK-47 rifle wrapped around her shoulder. They can be seen giving each other the famous fist bump.
It seems the couple is inside the White House and they burn up the red and white stripes flag in the fireplace and checkout Osama bin Laden picture hanging on the wall.
Many are saying this is a satire but this kind of cover will create different interpretations to many people.
You can only call it a satire if it is doesn't need explanations but in this case it just produced many questions.